Where is 'Britain's loneliest house'?
Skiddaw House, near Keswick in Cumbria, is a former shooting lodge that was built by the land-owning third Earl of Egremont in 1829. It was built to house his gamekeeper, who took care of his sporting birds, and a shepherd who looked after his sheep. It has six bedrooms, five bathrooms, and 3,000 acres of beautiful Lake District land that includes Skiddaw Forest, Skiddaw Mountain, and Great and Little Calva. Described as an inspiring one-of-a-kind property, it is also considered to be the most remote house in England.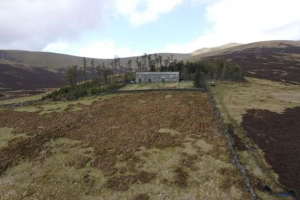 Getting to the house
There are no other buildings in sight, unless you count the ancient dry stone walls that divide up the land, and there is no sign of people for miles. It can't be reached by car, as the roads leading to the house are too narrow and winding; instead, anyone who wants to visit will have to run, walk or bike there. It takes around an hour and twenty minutes to walk the shortest route to the nearest village of Threlkeld, and people are advised to take waterproofs, a map, a compass, a torch, and a whistle in case of inclement weather. In the past, it has been used as a resting place for weary travellers, a rural retreat for ramblers and cyclists, and a youth hostel.
A place to escape the hustle and bustle
Skiddaw House has no electricity, gas or telephone, so there is no internet connection. It is truly cut off from the outside world and an ideal place to escape from the pressures of modern life. With no heating, this north-facing house relies on open fires to take off the chill. The water is sourced directly from the mountain springs.
The closest pub is four miles away in the village of Bassenthwaite and the nearest shop is five miles away in Keswick. The isolated setting surrounded by moors, valleys and breathtaking views is both serene and bleak; however, the wider Lake District National Park has lots of attractions and activities for people to enjoy.
A rare opportunity to buy part of the Lake District
Skiddaw House was put on the market in 2021 and was expected to sell for at least Ł10m; however, the lack of facilities meant it didn't sell and it is now back on the market under a sealed bids process. According to Andrew Wright, head of Mitchell's Land Agency in Cumbria, it will be one of the biggest areas of the Lake District National Park ever to be sold. Much of the Lake District is owned by the National Trust, so the opportunity to acquire such a large area of privately-owned land is very rare.

Anyone who would like advice about purchasing this property or something similar should contact a reputable firm of solicitors, such as Ascot solicitors Parachute Law.
In Hugh Walpole's 1932 novel The Fortress, the house was used as the setting for a murder scene. The author wrote that it is "one of the loneliest dwelling places in all the British Isles, the only building from Threlkeld to Dash." It is a truly remarkable place to escape the crowds, enjoy the scenery, and go back to basics. A once-in-a-lifetime opportunity, would you like to live in Britain's loneliest house?